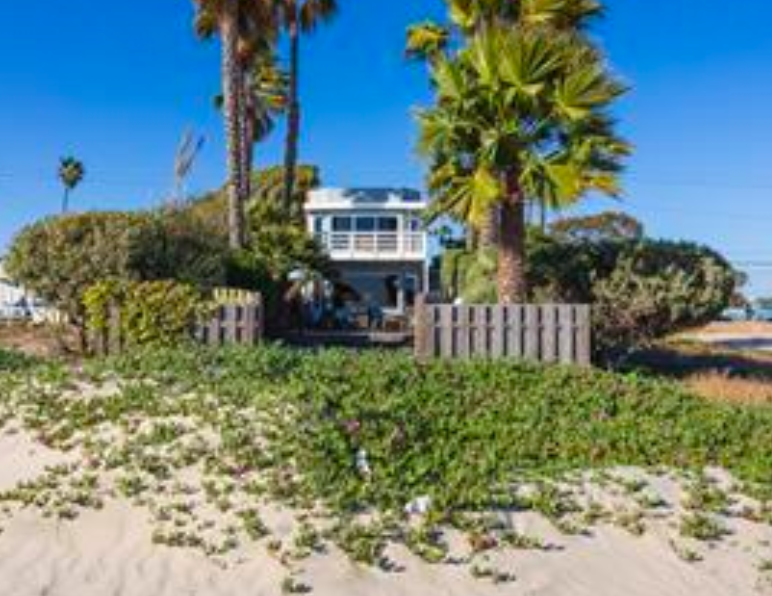 When there is a buyer looking for property for sale in Long Beach, California with a water view where they can plant their feet in the sand; I have the fun of scrolling though wonderful fantasy homes.

5404 E. Ocean Blvd, built in the sand in Long Beach where Belmont Shore meets the Peninsula, is definitely one of those dream homes. It is one of five houses on the beach side of Ocean Boulevard. They are the remains of homes built before a hurricane struck in 1939.
The hurricane was the only such storm in the 20th century with 75 mph winds and 5 inches of rain hammering down in a 24-hour period. The surrounding landscape was flooded, and extensive damage was done to properties primarily from Granada to 55 Place. The City of Long Beach bought up most of the land where the damaged homes stood, leaving the five homes as the only houses in the sand in the area near Belmont Shore. You can imagine these rare and coveted properties don't come on the market very often.
This property, built in 1933, is listed by Sean Stanfield and Cheyenne Alred of Pacific Sotheby's International Realty and boasts 4 bedrooms, 3.25 bathrooms and private access to the ocean via the gated backyard.
The house, which is this Realtor's latest "House Crush", is 2,358 square feet. The lot size is 3912 square feet, not large, but the home sits on a little island of green foliage and trees which are like a private island on the beach. No other house stands near this home, which is actually on the grounds of a private state park, assuring that the house will remain a secluded paradise.
Along with the location in the sand and across the street from the Bay, the Sailing club and Gondola Getaway, and next to the bike path; it is an easy walk to all of the shopping and restaurants available in Belmont Shore.
The home offers what any great "House Crush" should have: AMAZING Panoramic VIEWS! Someone is going to not only buy a cool house in a fantastic location in Long Beach; they are going to snap up a piece of history too!
Long Beach offers up some tremendous "House Crush-worthy" properties. This one is priced at $3,875,000. It is a Long Beach property to keep your eye on!
Janet Darrow
Keller Williams Coastal Properties
DRE#01977602