When you find a property and move to Long Beach; you might find yourself engaging in a new habit of eating breakfast out on the weekends. "Breakfast out" in Long Beach is a tradition and local pastime.
Over the past years, Tony and I have made a point to get out and munch our way through a mountain of eggs and bacon, breakfast potatoes and toast and bagels.
Long Beach residents all have their favorite breakfast spots and I thought that I'd share some of my "you have to try this" breakfast places with you. My list is very "Eastside-centric". There are wonderful breakfast spots all over the city which I invite you to share and discover. Waking up hungry, I don't stray too far from my Alamitos Heights home so the restaurants on the other side of the city are dazzling other people and are better reviewed by them.
Here are my very subjective favorite Eastside Long Beach breakfast spots: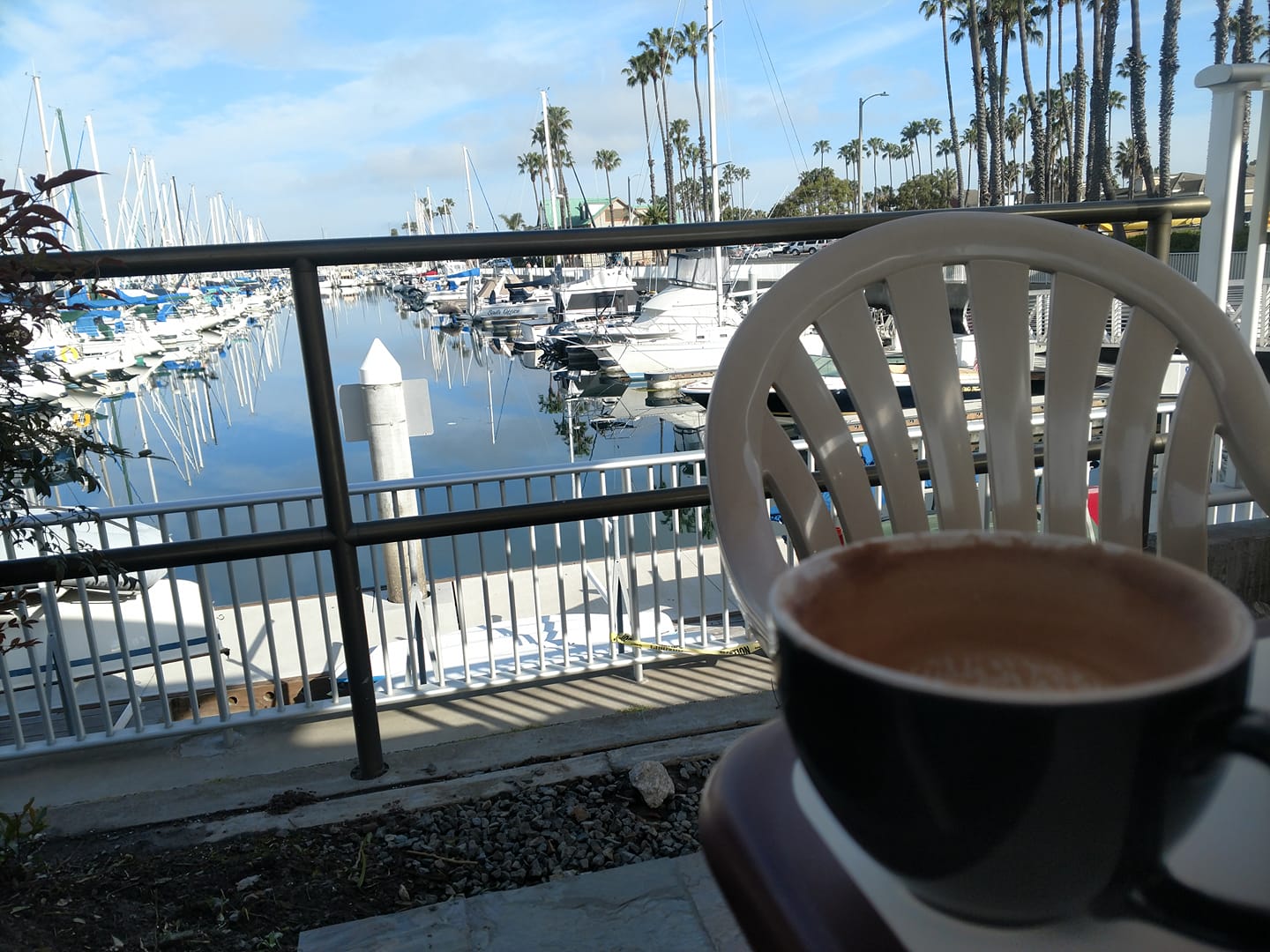 Schooner or Later: https://www.schoonerorlater.com/breakfast.html
(562) 430-3495 241 Marina Dr. Long Beach
M-F: 6:30am-3pm and S-Su: 6:30am-4pm
This restaurant on the marina is the "Big Kahuna" of breakfast spots. Weekend waits can top two hours; but you can chat to all of the others who have hoisted themselves up onto the life guard chairs as they sip of their cafe mocha's from the little coffee shack on the premises. Don't want to wait? Get there before 8:30 on the weekends. It's a friendly, bustling place and the view is terrific.
What to order: I swear by Denny's Favorite, an egg dish with cream cheese, onion, and cilantro. Tony likes the Crab and Cheddar Omelette. Others rave about "The Mess" a local hit carried on from The Galley, a previous restaurant at this spot.
Notes: Serves alcohol and lunch.

The Crooked Duck: http://www.thecrookedduck.com/menu.html (562)494-5118 5096 E Pacific Coast Hwy Long Beach
M: 8am-3pm, Tu-Th: 8am-9pm, F-Sa: 8am-10pm, Su: 8am-9pm
Crooked Duck is a cute little diner in a cottage set back from PCH in a quiet neighborhood. The parking can be challenging, but the food and friendly service make this a worthwhile favorite. There's a nice patio that's partially enclosed. Joe, the owner, is usually found behind the counter on weekends and is happy to chat or let you sample something new that he is trying out. You'll be plied with Hazelnut coffee and tasty food.
What to order: I'm a big fan of the Chile Verde Omelette which is a special that is on the menu more often than not. Tony likes Joe's Italian Scramble and we both recommend the Duck Omelette.
Notes: Serves alcohol and lunch and dinner. Lots of waterskiing picture and a fun story about how the restaurant was named the Crooked Duck.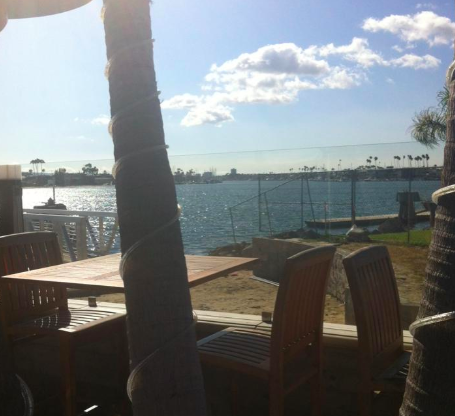 Boathouse on the Bay: https://www.boathouseonthebay.com/weekend-breakfast-menu/
(562) 493-1100 190 N. Marina Dr. Long Beach
Open for Breakfast Sa: 11am-1pm and Su: 9am-1pm
Boathouse is primarily a nice lunch and dinner restaurant with a terrific location overlooking the Alamitos Bay. On the weekends, late risers can enjoy a wonderful breakfast with a view. The location is first rate and Sunday's breakfast usually pairs the water view with the "vacation for your ears" sound of Steel Drums. It may be a little pricier than the other restaurants mentioned but Boathouse offers a real treat for all of your senses.
Another reason to patronize Boathouse on the Bay is because the owners are very community-minded, they are always offering their restaurant for toy drives, fundraising events and other neighborhood or philanthropic projects.
What to order: I'm partial to the Boathouse Skillet Scramble and the Bayside Omelette. Tony swears by seafood and steak, so he leans towards the Sirloin steak and eggs or the Lobster skillet scramble.
Notes: alcohol is served and the restaurant is very popular for lunch and dinner and glorious patio dining. Parking can be challenging so Uber or Lyft is recommended.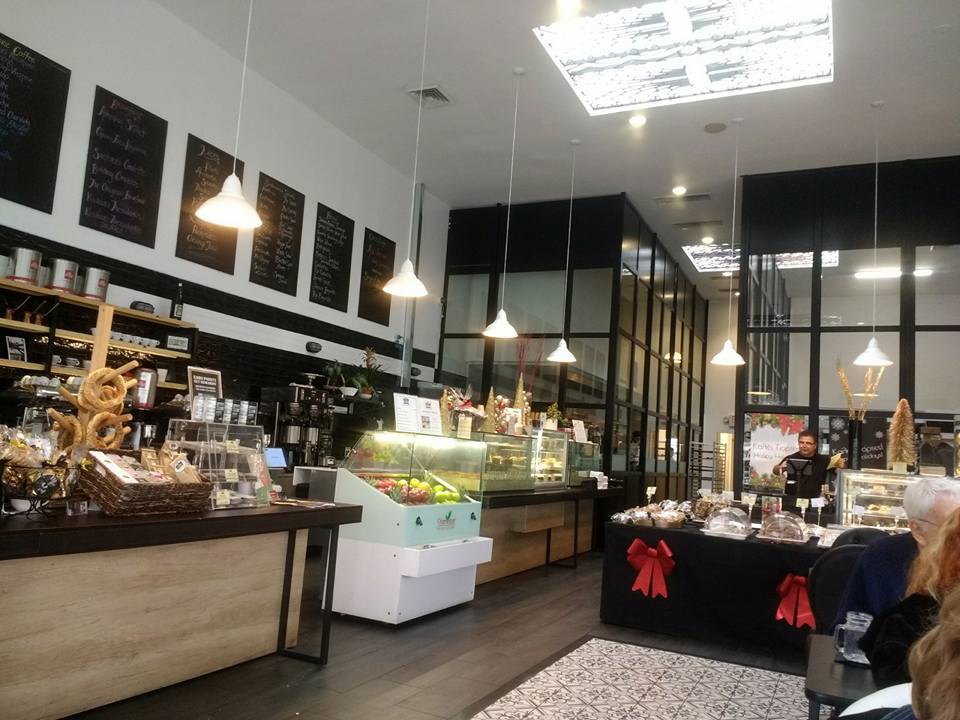 Pietris Bakery: https://www.pietrisbakery.com/breakfast
(562) 433-8999 5000 E. 2nd St. Long Beach
Su-Th: 7am-10:00pm, Fr-Sa: 7am-11pm
A recent and welcome addition to trendy Belmont Shore is Pietris, which joins a host of Mediterranean-style restaurants that are thriving in the Shore. Pietris is set apart by the fact that it is part of a Greek Bakery chain and serves delicious breakfast offerings that don't skimp on the Kalamata olives or feta cheese. Architecturally, the restaurant also delights with enormously high ceilings and an almost fin de siècle style which meshes well with the old world bakery items.
Tony is half Greek-Cypriot so he loves practicing his Greek here and enjoying a real Greek coffee after the meal.
What to order: The Santorini Omelette and the Kayianna get two thumbs up from me. Tony loves the Athenian Scramble Skillet and recommends the bakery items including the Baklava.
Notes: Lunch, dinner and alcohol are served here. The bakery is excellent and there is a "do die for" Gelato bar as well.
The Potholder: http://thepotholdercafe.com/menu.html
3700 E. Broadway, Long Beach Belmont Heights 301 W. Broadway, Long Beach (Too) Downtown 2246 N. Lakewood Blvd (P3) Lakewood and Stearns 5008 Katella, Los Alamitos (P4)
M-Fr: 7am-2pm Sa-Su: 7am-4pm
The Potholder is the standard-bearer for Long Beach diner-style breakfasts. It has been around for ages and has expanded to include four delicious locations throughout Long Beach and Los Alamitos. The original location is in Belmont Heights. The weekends are busy with a line going out the door. Get there early and get your name in for your party.
Offering an endless assortment of scrambles and Omelettes, the Potholder has survived for years by offering simple, delicious food for affordable prices. Speaking of endless, there are endless Mimosas offered up on Saturdays. Parking can be an issue. It's a great time to call an Uber or Lyft and enjoy the Mimosas.
What to order: I like to order the Mary's Aphrodite or Popeye scramble while Tony drifts to the El Matador or Veggie Omelettes. We like the Mimosas.
Notes: Open for breakfast and lunch only. Serves alcohol.
Hof's Hut: http://hofshut.com/sites/default/files/tmp/Hof's%20Hut%20Menu%203.28.19.pdf
(562) 597-5811 2147 Bellflower Blvd. Long Beach
Su-M: 6am -10pm, Tu-Th: 6-11PM, Fr-Sa:6-12

Hof's is an old-school, friendly, neighborhood coffeeshop that offers up good value meals. Real Long Beach natives grew up going to their closest Hof's Hut, as it has been around since 1951. There has been anguish by the patrons as the local Hof's have closed and given way to the other Hofman Family franchise, Lucille's. However, two locations remain including the one on Bellflower Blvd in Long Beach.
A dependable restaurant with many selections available, Hof's can get a queue of people waiting for a table. Fortunately, the restaurant is large and most people can be handled with a minimum wait time. There is a large, comfortable, covered patio
What to order: Tony likes the Hof's Omelette while I think the Cinnamon French Toast is worth the calorie-splurge.
Notes: Serves alcohol, breakfast, lunch and dinner. Easy parking in back lot.
In conclusion, if you move to Long Beach, you will never lack for breakfast spots in Long Beach and will soon have your own favorites to add to this list.
I wanted to mention a few others that you may want to try: Park Pantry near Bixby Park is a delicious classic. The East Coast Bagel Co in the shopping center off of 7th/PCH and Bellflower is my number one place to load up on everything bagels and breakfast bagel sandwiches. The Coffee Cup Cafe on 4th St is another reliable coffeehouse. If you want to splurge on a fancy brunch head downtown to the Queen Mary for their over the top Sunday Brunch and if you want to cross the line into Seal Beach, The Hangout and the Old Town Cafe will not disappoint you.
Rise and shine! It's breakfast time!